- Certificate / Product Information -
RAVENOL HJC COLD CLIMATE -60°C - PROTECT FL22
AMINE – SILICATE - FREE
HYBRID JAPANESE COOLANT, ANTIFREEZE
RAVENOL HJC COLD CLIMATE -60°C is a ready to use, prediluted with water, ethylene-glycol based and time-tested coolant without phosphates, nitrites, amines and silicate. This product is formulated based on a proven inhibitor development as an extended life radiator antifreeze. The product is suitable for regions with cold climate.
The quality of an antifreeze is no longer just determined by the antifreeze effect (which automatically exists in an ethylene-glycol based product), but by the rust protection. That is why automakers subject antifreeze to lengthy corrosion and cavitation tests.
RAVENOL HJC COLD CLIMATE -60°C protects the cooling system from rust, frost, and in summer, from overheating.
Application Notes
RAVENOL HJC COLD CLIMATE -60°C is a prediluted coolant with frost and rust protection for year-round use in automotive engines for regions with cold climate.
Even in summer coolant must contain enough antifreeze to ensure good corrosion and overheating protection.
Instructions: Add RAVENOL HJC COLD CLIMATE -60°C to radiator to fill line.
Practice and tested in aggregates with filling
Mazda FL22 Coolant, Ford WSSM97B55 (Motorcraft Specialty Green Engine Coolant), Ford VC-10-A2, Nissan Anti-freeze Coolant (L250), Nissan KE90299934, KE90299944; 08CLAG010S0, Honda E Coolant, Hyundai Long Life Coolant, Hyundai 07100-00200, 07100-00400, 00232-19010, Mazda 000077508E20, C122CL005A4X, C100CL005A4X Herstellervorschriften beachten.
Characteristic
RAVENOL HJC COLD CLIMATE -60°C offers:
Excellent for light metal engines
Good reserve alkalinity
High-quality corrosion additives for optimal corrosion protection
Elastomer compatible with elastomers used in automotive radiators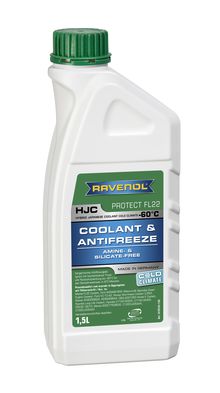 Article number: 1410143
Packages:

1,5 L|1410143-150-01-999
5 L|1410143-005-01-999
10 L|1410143-010-01-999
20 L|1410143-020-01-999
60 L|1410143-060-01-999
208 L|1410143-208-01-999
| Characteristics | Unit | Data | Audit |
| --- | --- | --- | --- |
| Colour | | grün | visual |
| Density at 20°C | kg/m³ | 1098 | EN ISO 12185 |
| pH-Value | | 8,0 | ASTM D 1287 |
| Freezing point | °C | -60°C | ASTM D 1177 |
All indicated data are approximate values and are subject to the commercial fluctuations.
All information correspond to the best of our knowledge to the actual situation of the cognitions and our development. Subject to alterations. All references made to DIN-norms are only for the description of the goods. There is no guarantee. In case there will be any problems please contact the technical service.
24.03.2016
Ravensberger Schmierstoffvertrieb GmbH
Postfach 1163
33819 Werther
Tel.: 05203/9719-0
Fax.: 052039719-40 / 41